The Big Challenge
One of the biggest challenges facing organisations across the world is how to deliver learning to their staff that lasts a lifetime; ensuring investments create sustainable, scalable impacts that reach far beyond the initial intervention. All whilst available remotely. Spark Coach gives your Participants tools they can take away to self-develop in the workplace and from home - so now you can continue their learning far beyond the workshop. It's the biggest addition to Lumina Spark since it's creation. Discover learning without limits.
Join an Upcoming Demo
The Big Solution
Spark Coach empowers the individuality of those you share it with by putting personal development into their own hands. Self-awareness is important, but not sufficient, to create lasting change. Now you can give them a more interactive and impactful experience than ever before through Lumina Spark. With the all-new feature addition of Spark Coach, you can excite their continuous curiosity to explore and play with personality, embedding and growing their learning long after an intervention or workshop. It's effortlessly virtual.
Forget the traditional limitations in learning and interventions. Gone are the days of drops in engagement between sessions. No more paper reports gathering dust in desks from learning fatigue or under usage. Nor the missed learning opportunities from those crucial development moments when the coach isn't around to help. Now you can give your Participants personality at the push of a button with self-driven, deeper learning that lasts a lifetime. You'll be able to run more continuous interventions, and more interventions at once than ever before. Meet the latest addition to Lumina Spark's digital suite. Any time. Anywhere. Any size project.
Sustainable. Scalable. Remotely Accessible.
By highlighting key Quality Patterns in their personality, like hidden treasures and paradoxes, as well as providing personalised coaching questions and development tips, Spark Coach helps you to unlock the unlimited potential of self-development like never before. It's your time to bring a newly dynamic lens to the most disruptive personality model in the market. Deliver more sustainable, scalable, remotely accessible impacts than ever before.
As their coach you can get involved as you want to enrich their learning every step of the way, developing your Participants throughout their journey by helping them identify key areas of focus, exploring their qualities, reviewing their coaching questions and helping them set personal goals. Looking to run much larger projects? Let your Participants intuitively self-explore, so you can step back and let Spark Coach do the hard work for you.
No matter what your need; whether it be improving communication, building highly resilient teams, 1-to-1 coaching, maximising productivity, creating deeper organisational engagement or anything beyond. Spark Coach will take your interventions to the next level so you can truly celebrate the people you share it with through the language of personality. You'll build better organisations through interventions that last a lifetime. No matter where, no matter what. It really is learning without limits.
We spent our first ten years transforming how personality is understood. Now we are transforming how personality is delivered.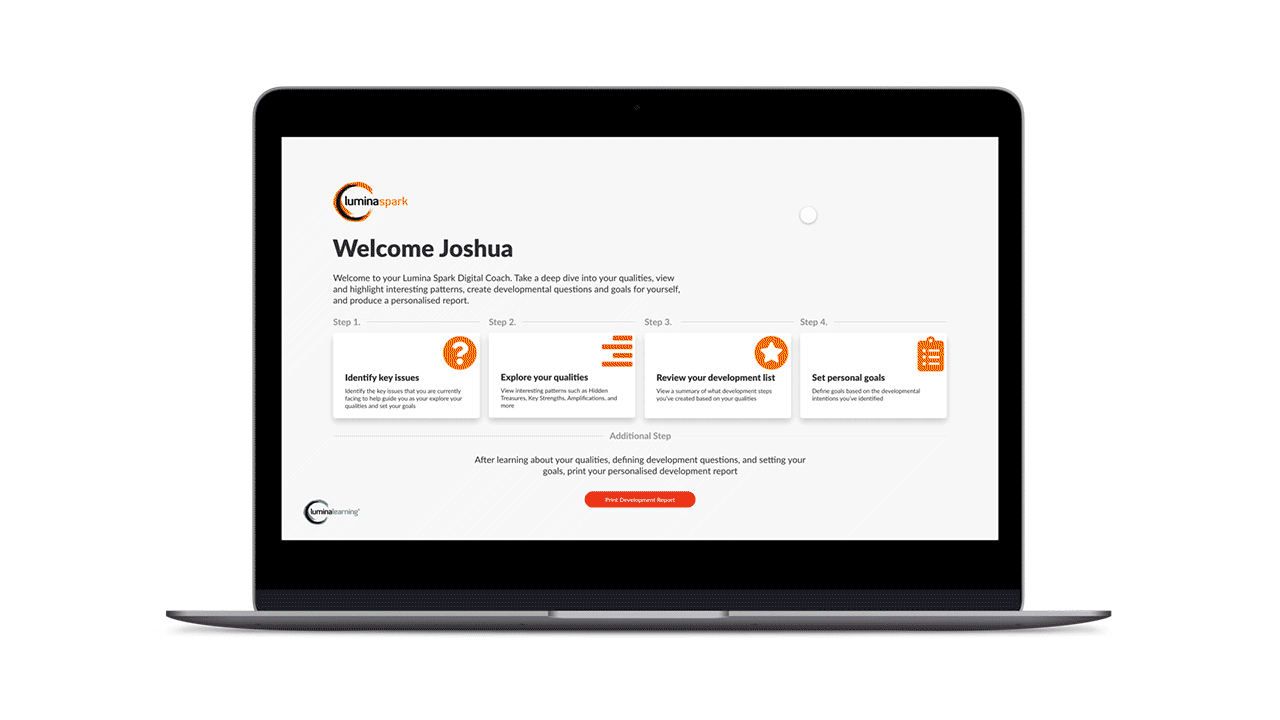 Keep scrolling to find out more about Spark Coach and what it's all about.
We promise you'll love it. #LearningWithoutLimits